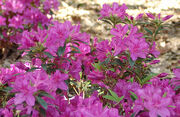 Encore Azalea (scientific name Rhododendron) is a collection of 31 varieties of reblooming Azalea. Introduced in 1998, the spring, summer and fall blooming Encore Azalea has been wildly popular. Encore Azaleas are hardy to USDA Zones 6A to 9B.
Invented by plant breeder Robert E. "Buddy" Lee of Independence, La., the evergreen Encore Azaleas tolerate more sun than traditional azaleas, growing well in full sun and high filtered shade. Lee first envisioned a series of azaleas that would bloom in multiple seasons — now known as Encore Azaleas — in the early 1980's and began crossing traditional spring-blooming azaleas with rare Taiwanese summer-blooming azaleas.
The Encore Azalea web site provides more information about USDA Zones and planting and care for these reblooming azaleas.